CUSTOM GYM WALL PADDING TO FIT ANY NEED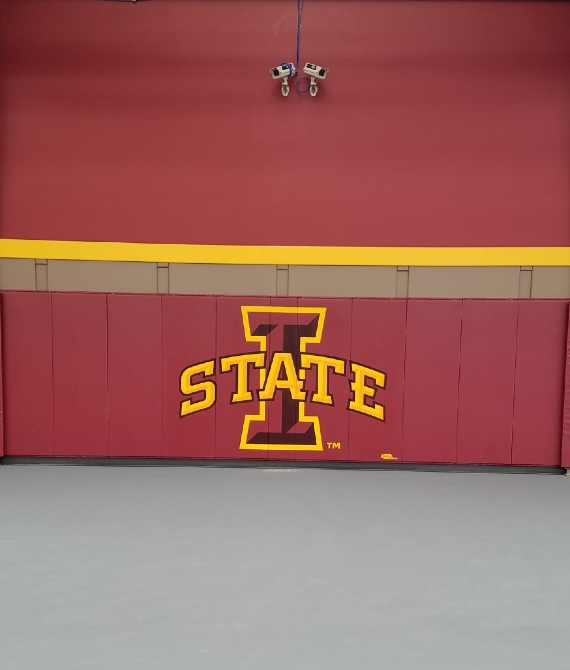 WE BELIEVE WE CAN PAD ANYTHING.
TRY US.
Pads can finish the look of your gym, wrestling room, dance studio, or fitness center while adding protection against impacts. Our technology allows us to have the widest range of customizable options available from any single source. We make custom padding in almost every gym we outfit. Our goal is to solve your problems. We work with you every step of the way, in making your installation the best it can be.
MATERIALS
We only pick the best for our customers. All materials are USA sourced and produced. Our covers are all anti-bacterial and easy to clean to keep your athletes and patrons safe. And, yes, we do custom orders.
PADDING
---
We have high-impact and low-impact padding with everything in between. We make sure our materials are safe for all ages and meet all national testing requirements.
HADAR COLORS
---
We hand select all our material to make sure your choice of color will be vibrant and stand-out. We can also produce custom colors through our advanced art technology.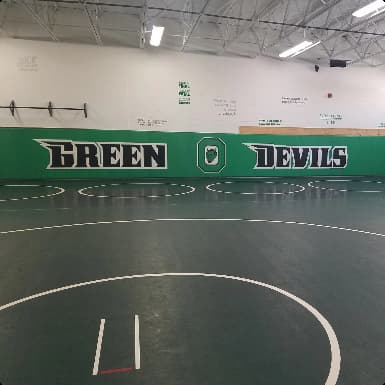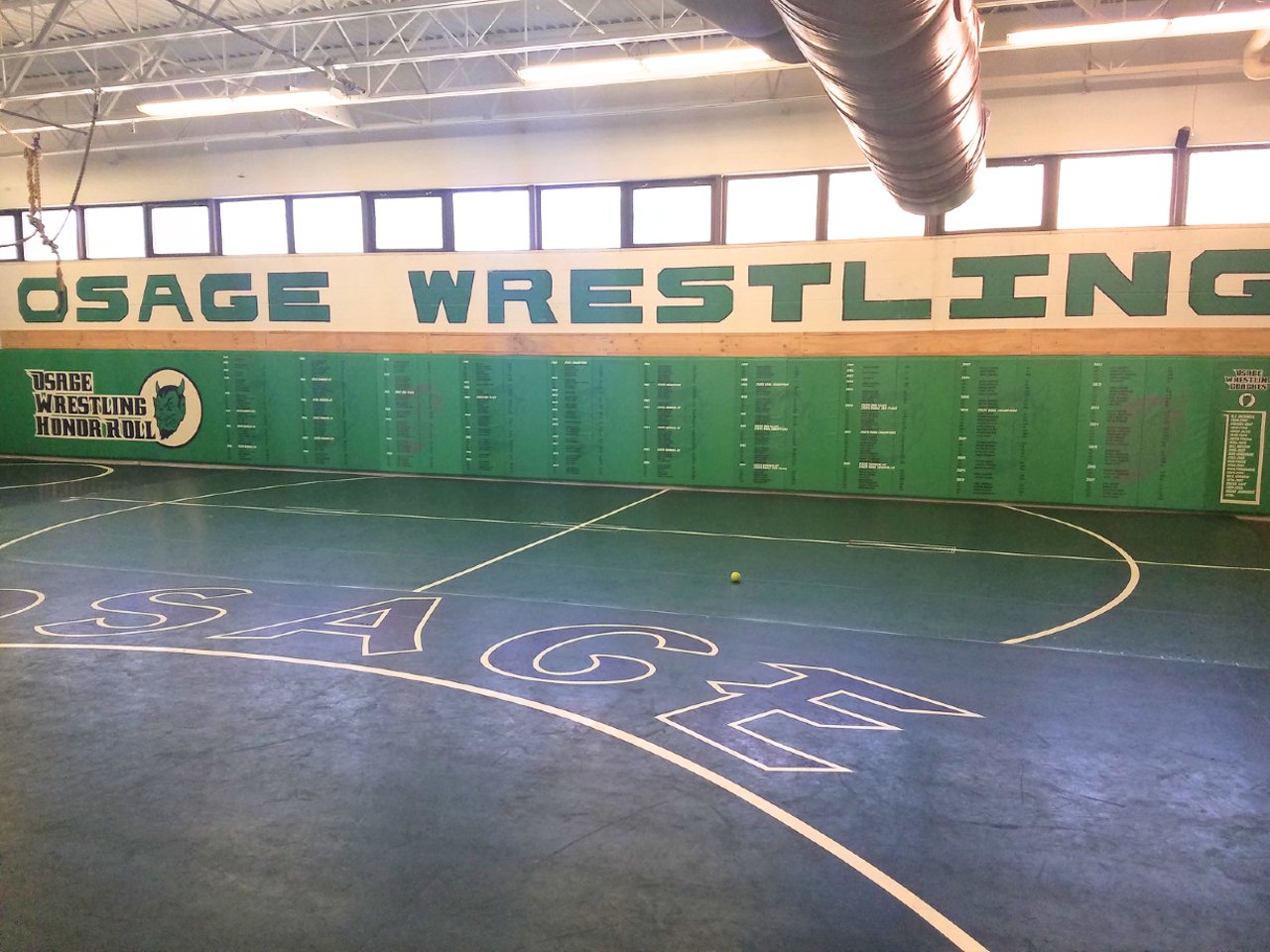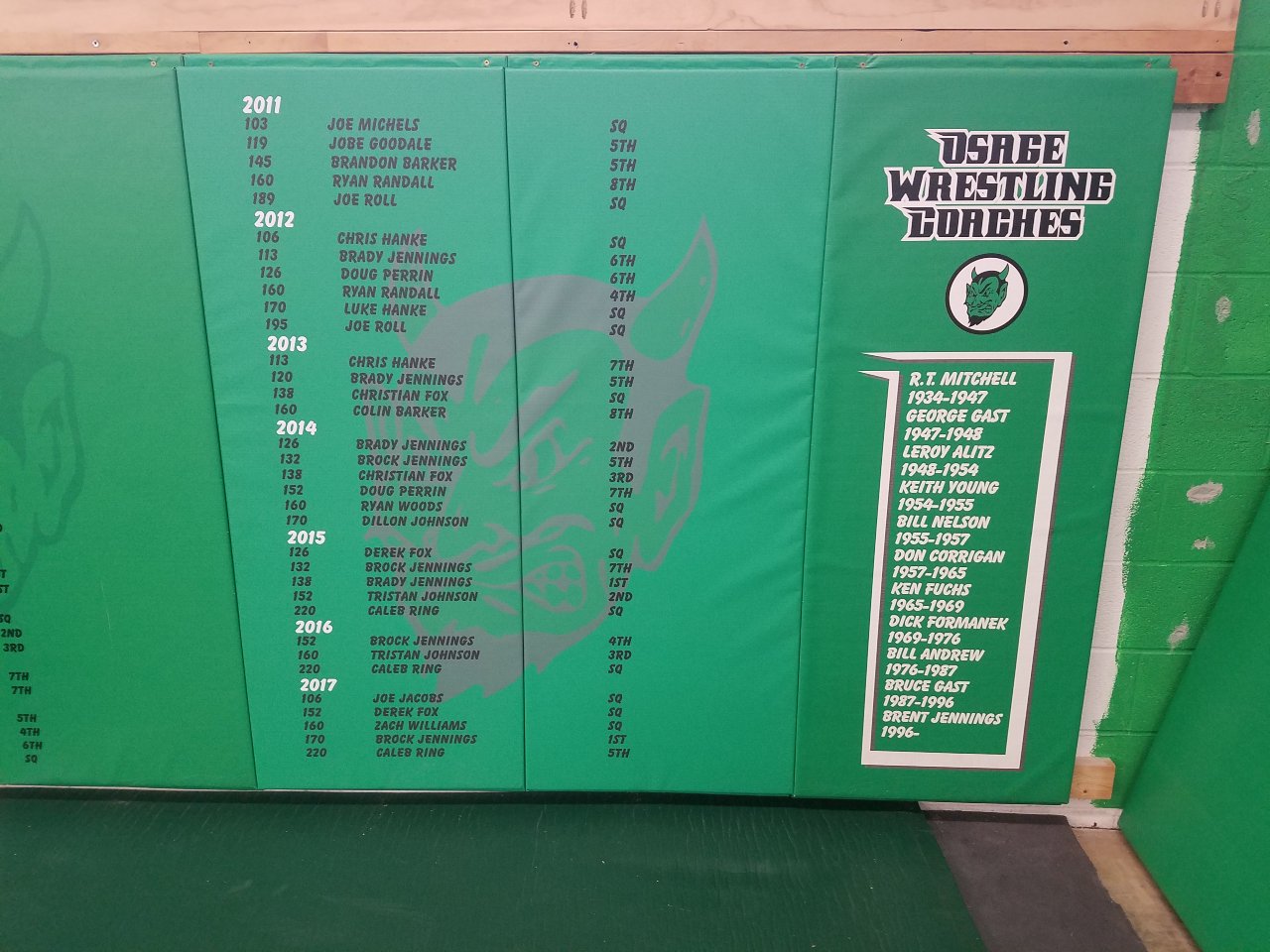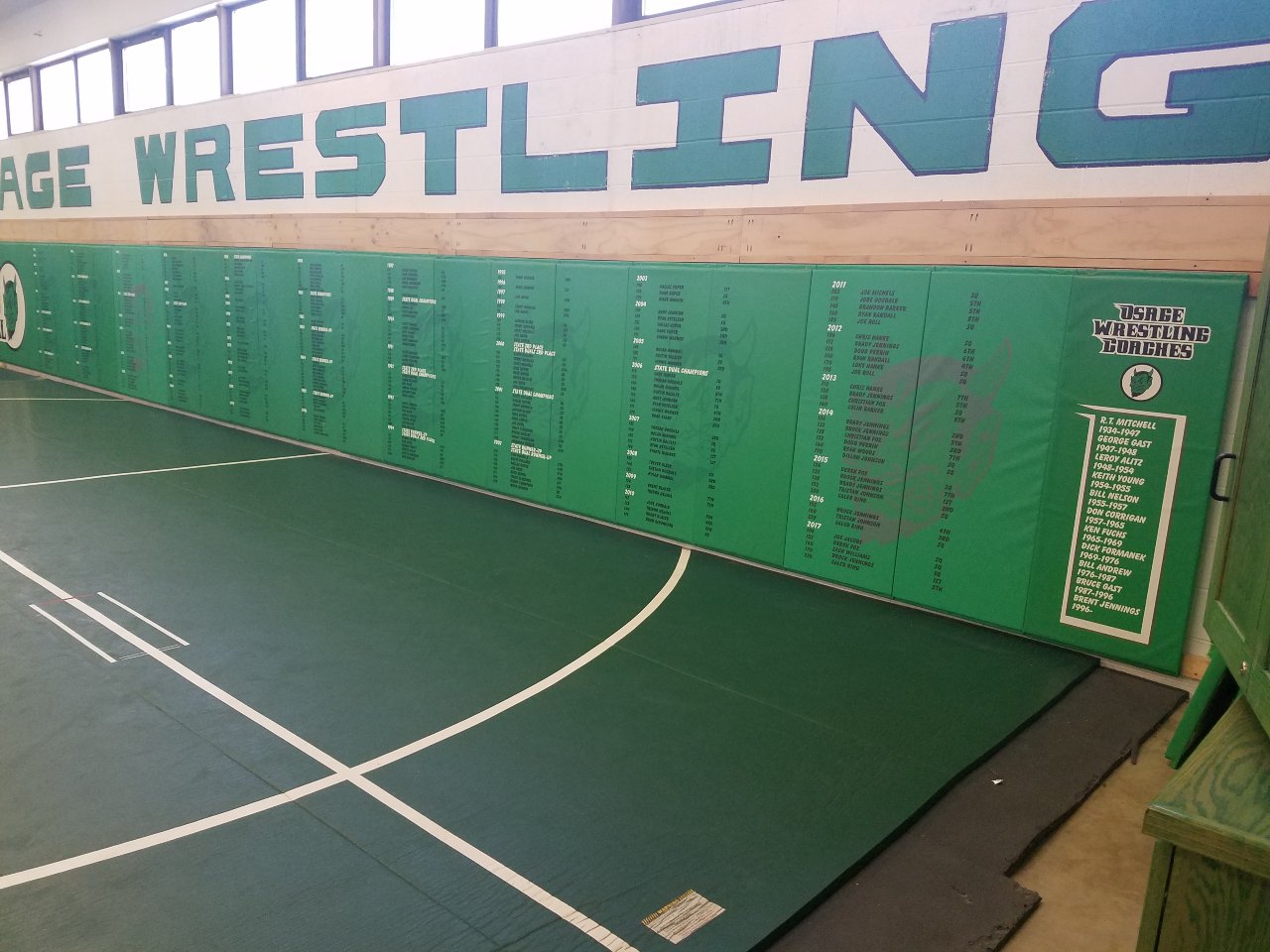 Osage Green Devils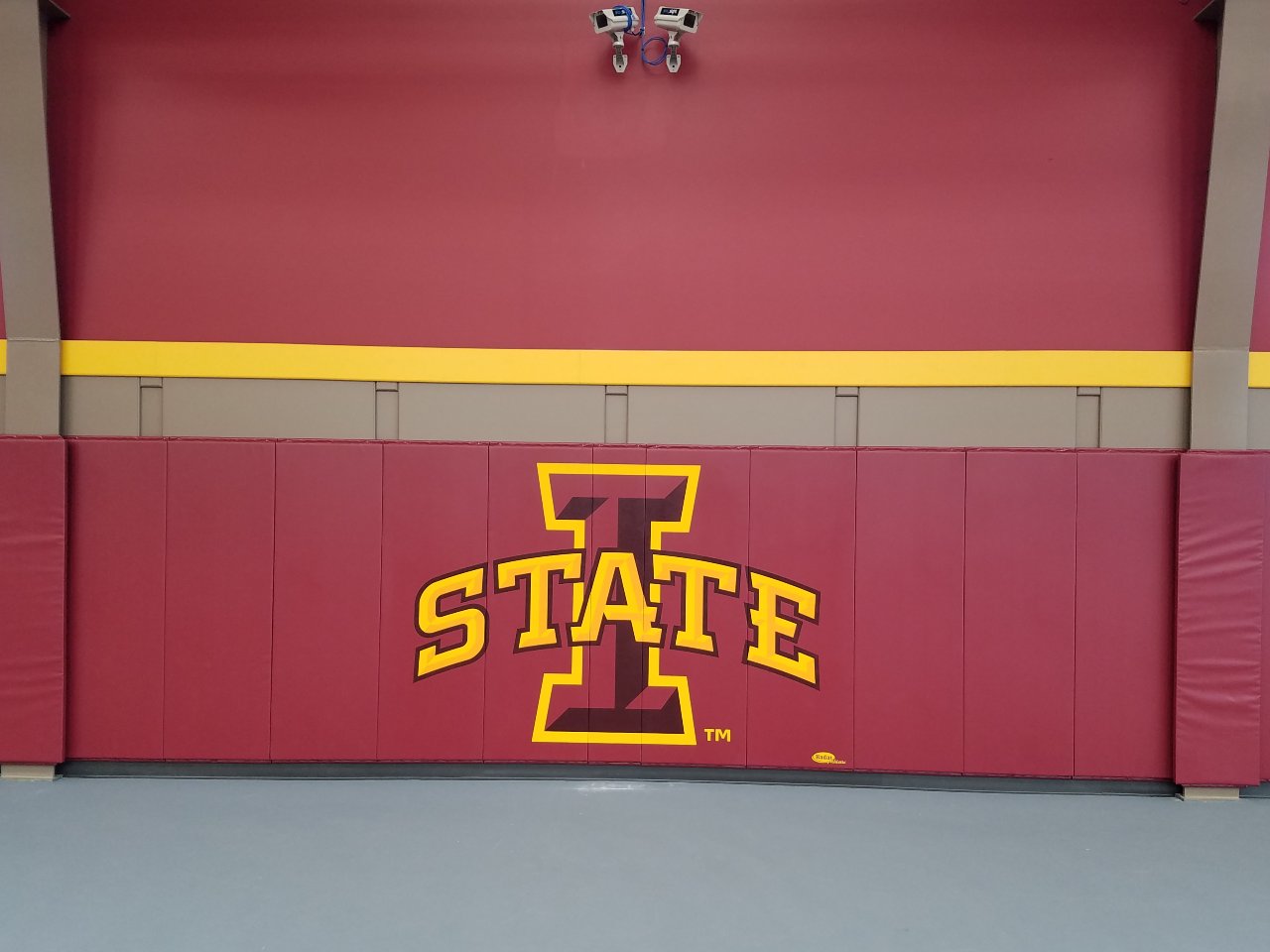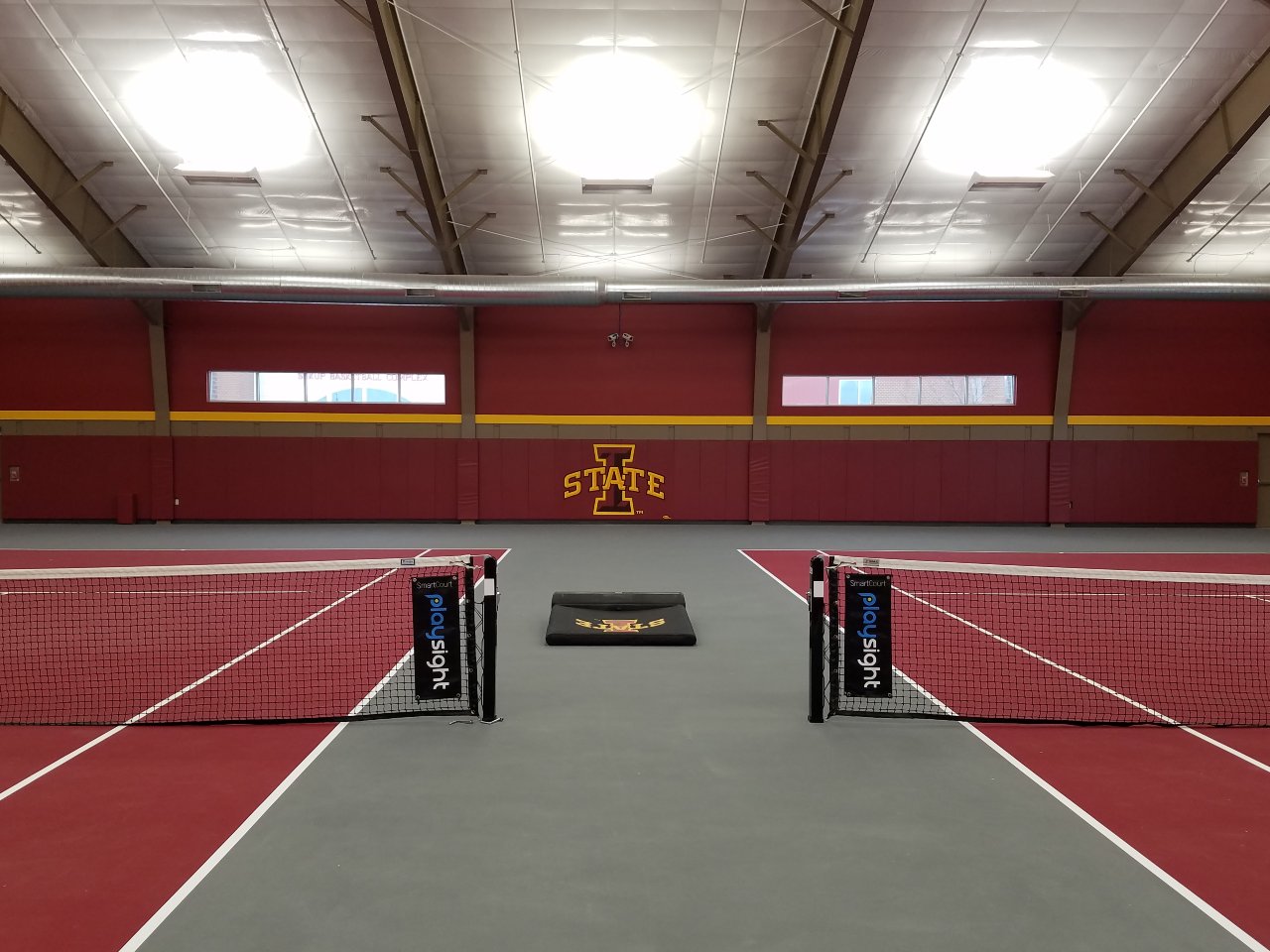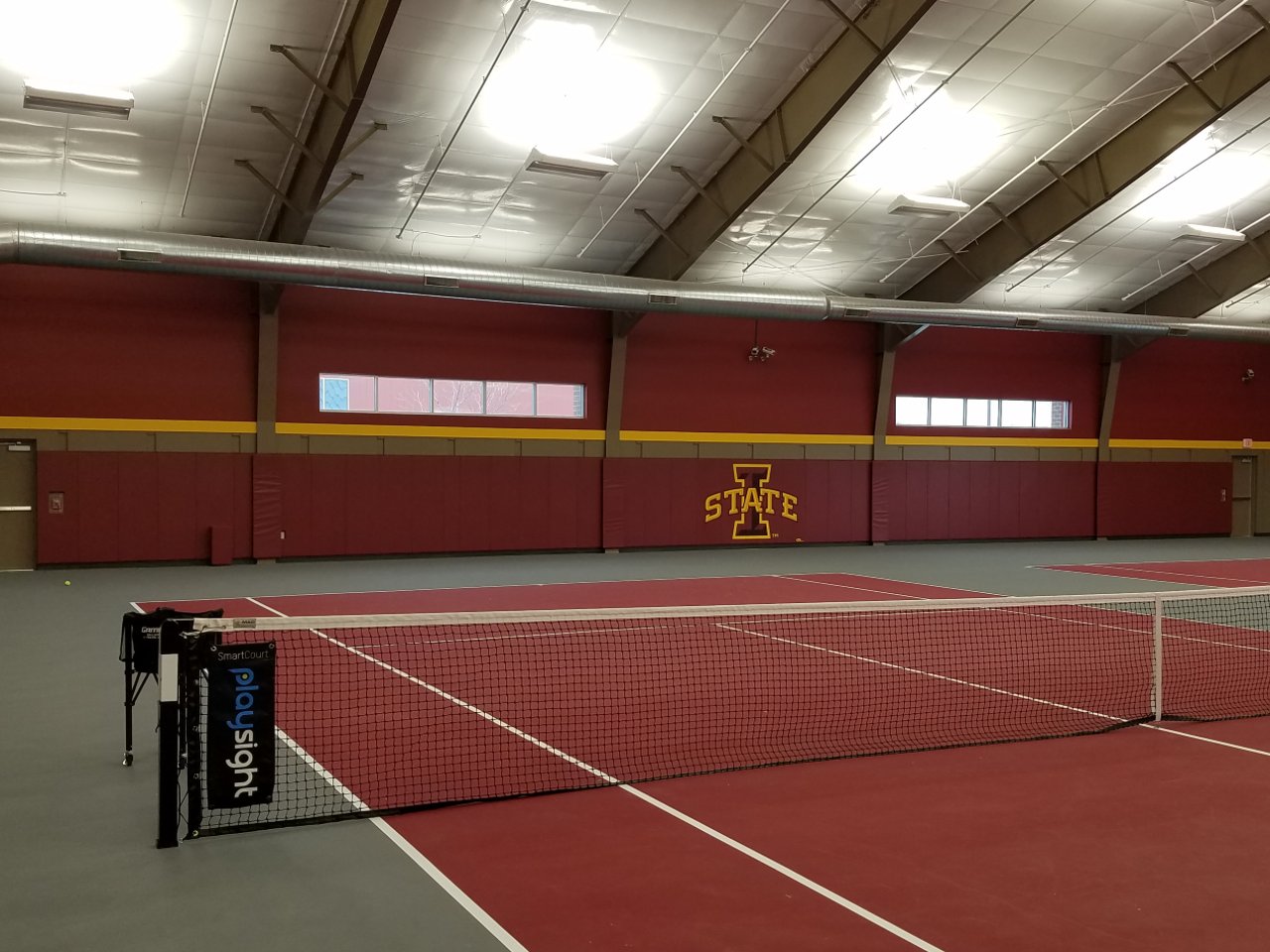 Iowa State Tennis Facility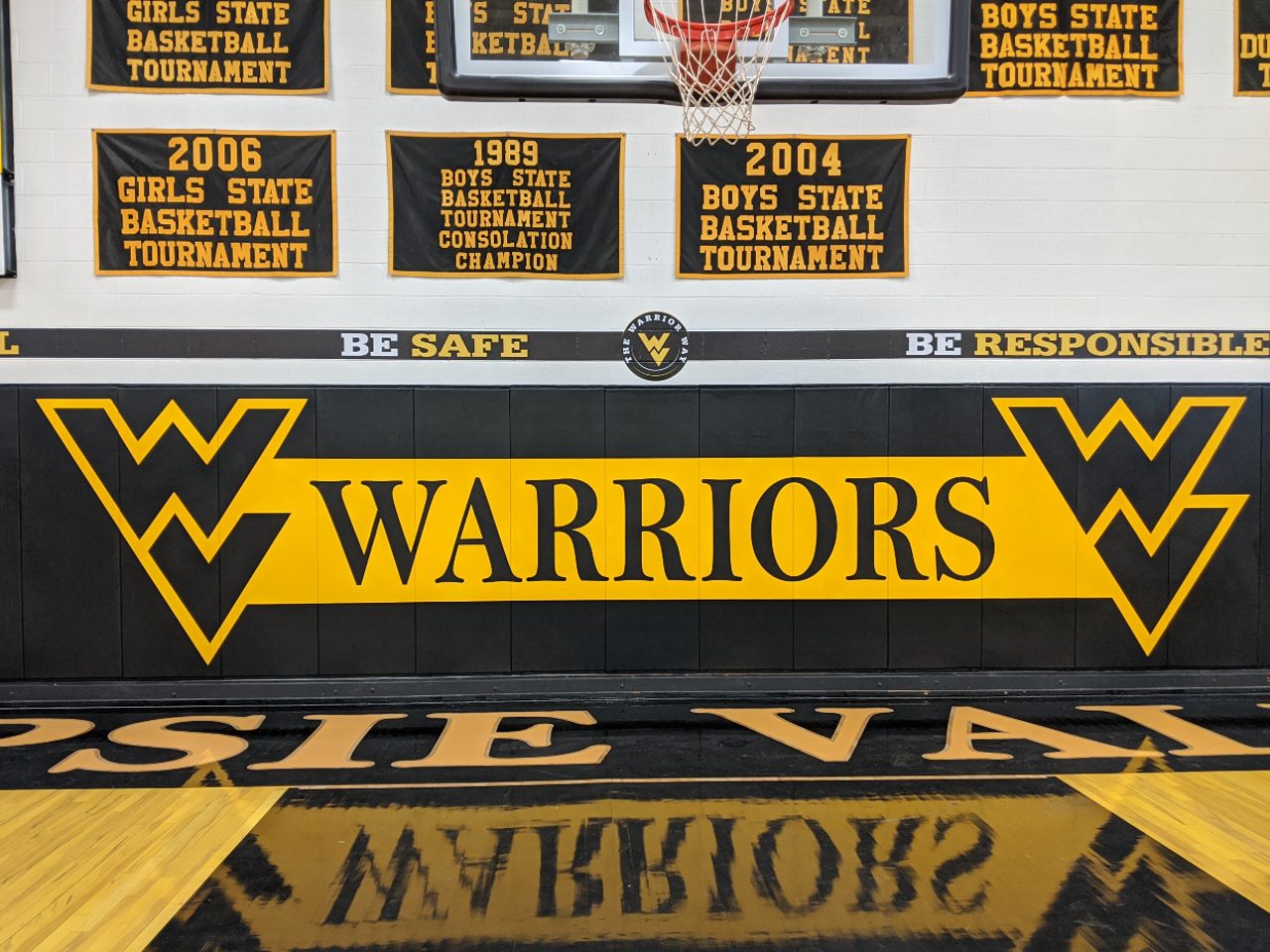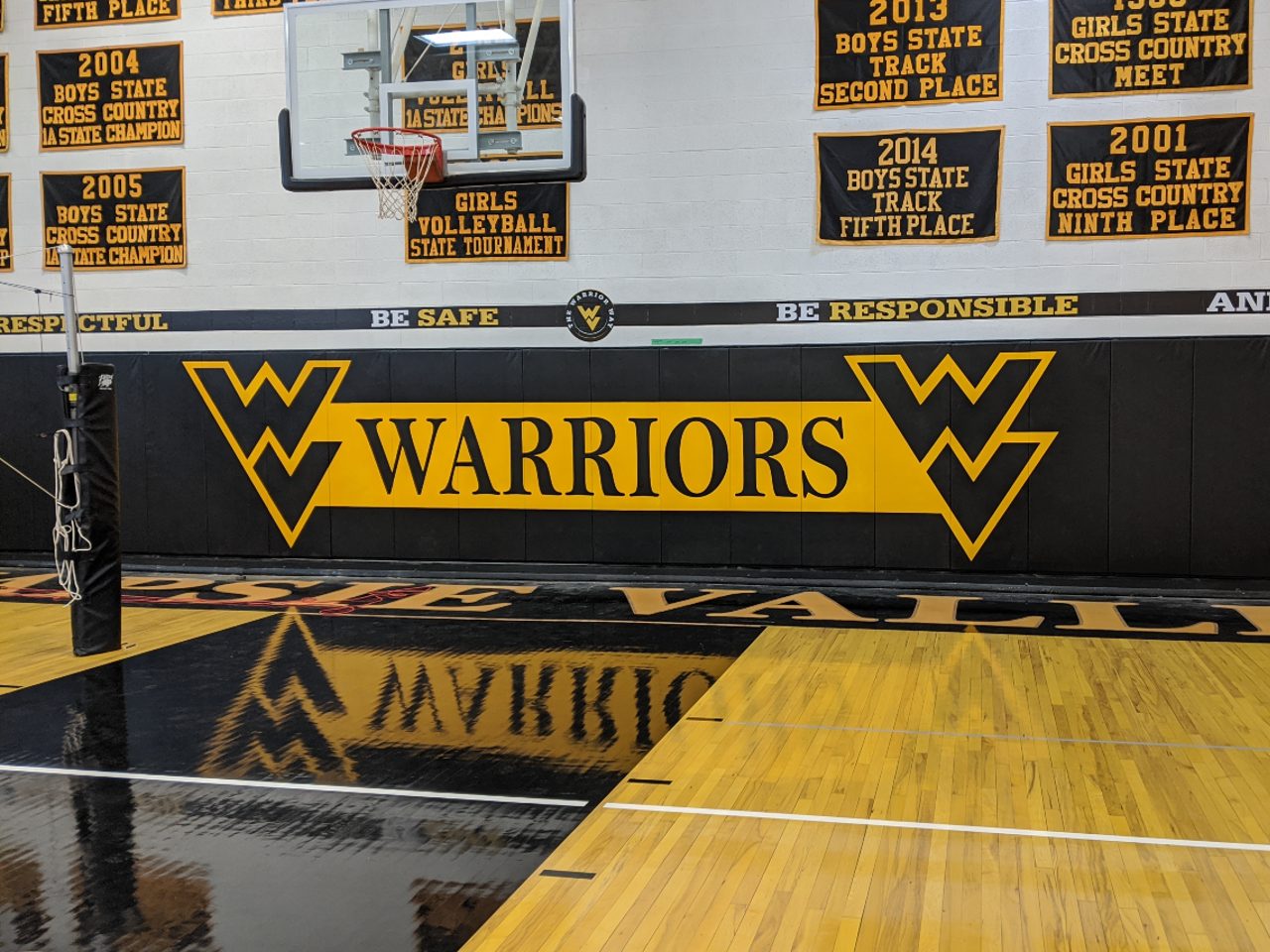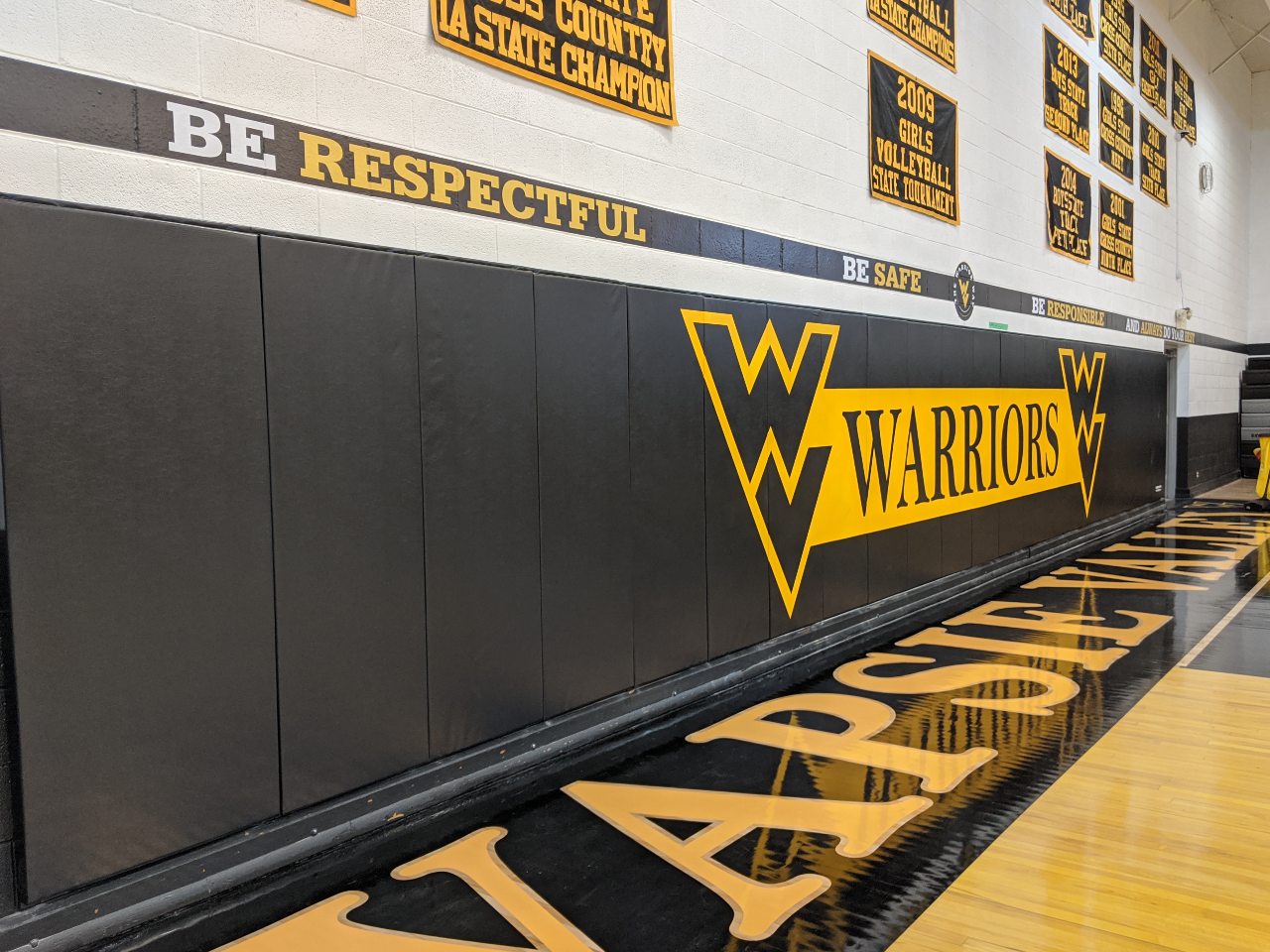 Wapsie Valley Warriors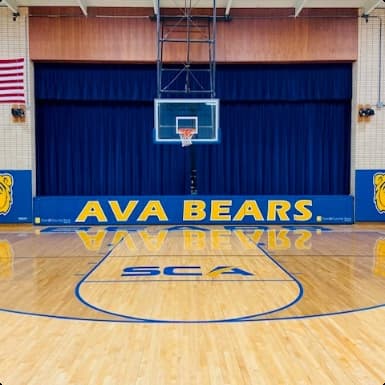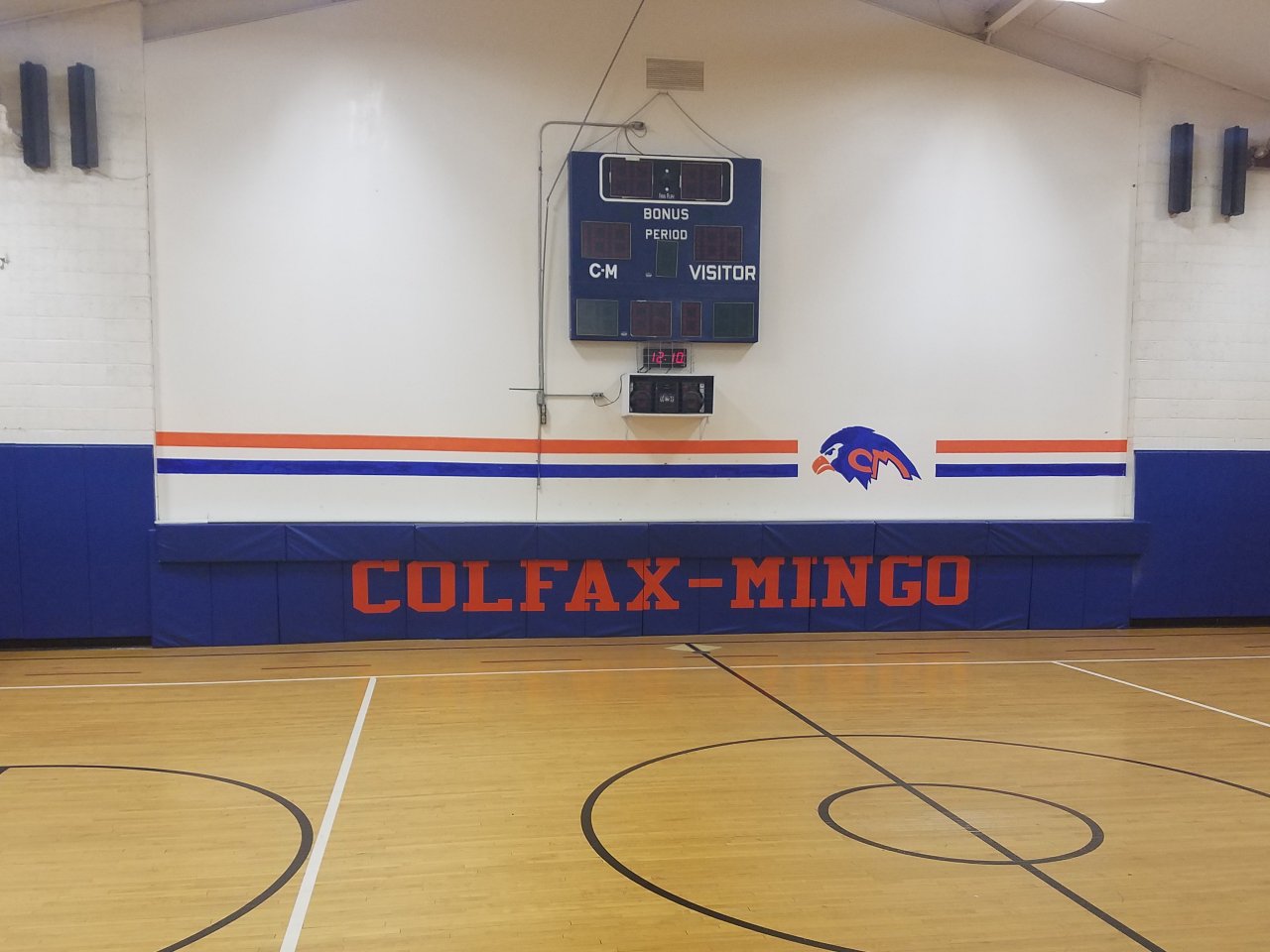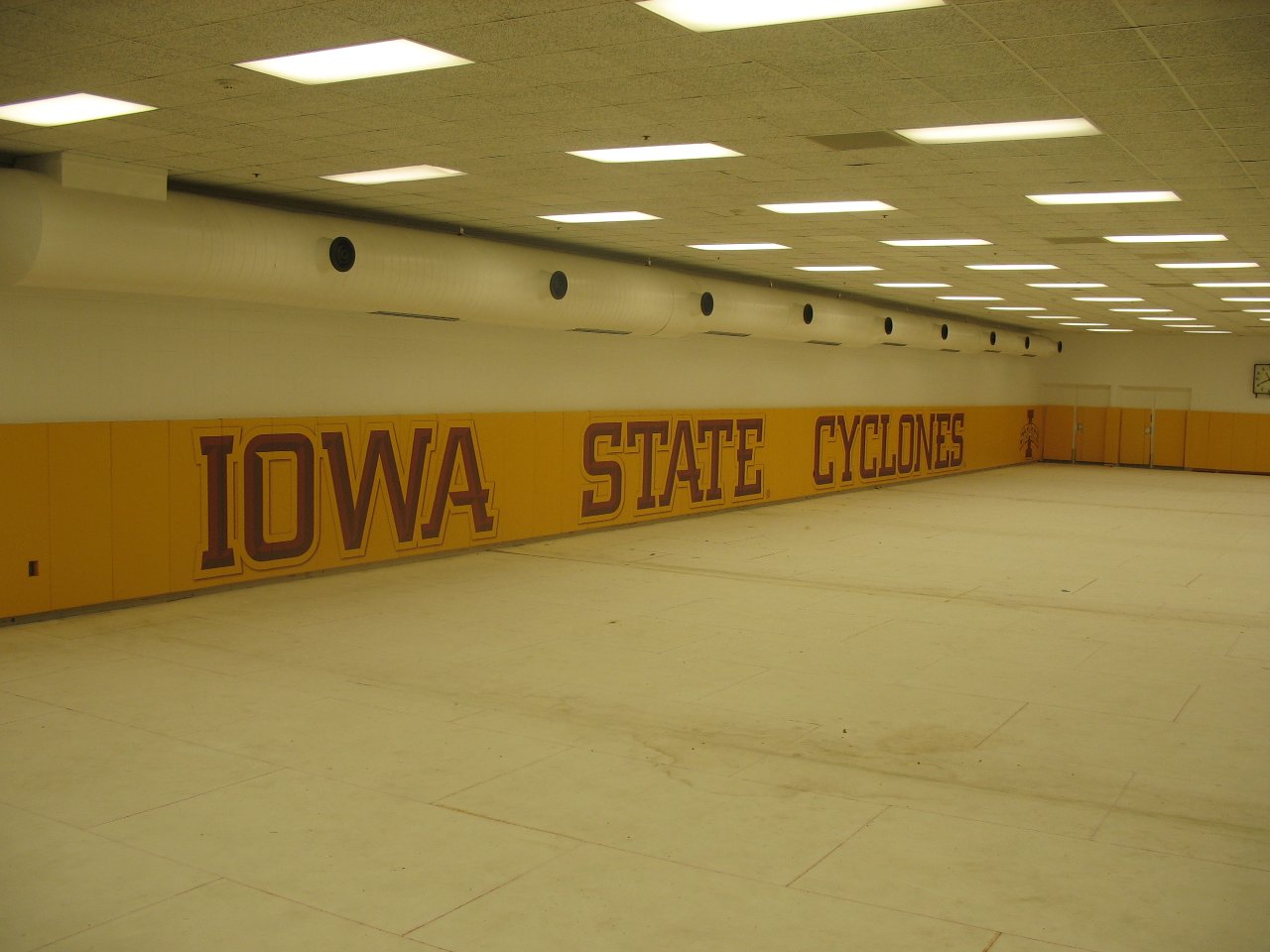 School Projects
I'm Unsure Where To Start (First Time)

We have you covered! With our in-house design team we can help you get the project started and walk you through how to take accurate measurements for the perfect fit. Get started through our Contact Us page.
Custom Orders

How is pricing calculated?

All padding is unique and priced per project. We charge on SQ FT of padding. Our artwork pricing is dependent on how many colors you choose vs size. One-color artwork will be more affordable than two-color artwork and beyond.

What type of rooms can you outfit?

We have done everything to stadiums, high school gyms, to quiet rooms. No project is too small or too big for us.

I've ordered before & am looking to add-on to an existing project.

Welcome back! You may Contact Us with either your previous, PO#, Invoice# or even just the name you purchased under and we can get started right away with additions.

Need a full custom build-out. What are my choices?

You're in luck! If you can imagine it, we can build it. Hadar Athletic produces all of our products in-house by hand making sure any custom work is built to your specs.

We have enhanced digital artwork technology so that you can incorporate any logo, photos, artwork, and graphics into your wall-padding. We have industry standard colors(link this to color page) and can match any Pantone or HEX # for a truly custom, one-of-kind build.

can I use the Iowa State Cyclones logo in my build?

Hey, we're fans too! We like where your head's at. All licensed images, no matter if it's an Iowa State logo, Busch Light can, or the Sweet Caroline lyrics, must be sent with licensor approval.

At this point in time Hadar Athletic does not handle securing licensing approval and the customer must provide proof of approval.
Measurements

What measurements should I provide?

Your padding comes on a wood panel that is an industry standard of 2' (24") wide. We custom cut our paneling to fit your measurements and can create larger width sizes if needed.

To get started we ask that you provide us with your wall Height (up & down) and Length (across) measurement. This will allow us to provide you with a rough estimate and we will continue correspondence to make sure all measurements are correct. Please see below if you have cut-outs or workarounds needed with your build.

I have outlets, windows, or poles on the wall (cutouts explained)

Having cut outs or objects you need to work around is no problem. This will require more communication between you and the team to make sure we are measuring twice and cutting once. You will always want to measure your cut out from where the wall starts and not from cut-out to cut-out. You will also want to measure the height and width of the cut-out. See diagram below.

Still not sure where to start?

Contact us! We are here to help. We can do a virtual consultation or you can send us photos so that we can pinpoint the measurements.
Installment

I'm not sure how I should hang my padding, what are my options?

We've made the hardest part of hanging wall-mats a breeze with step by step instructions that come with every delivery. There are multiple different hanging methods and all depends on the type of wall and your preference.

The first thing is to determine if you'd like to easily remove the padding or if this will be permanent.

For easy removable we provide three options:

Aluminum Channels with Commercial Grade Velcro.

The back of your padding will be outfitted with an aluminum channel with velcro and the corresponding channel will need to be installed on your surface.

N-Clips.

We attached an N-clip to the back of your padding and send you the corresponding clip to attach to your wall.

Grommets

The padding will come with a top lip with grommets so that you may hang your padding.

Will you deliver and install the padding for me?

We have certain requirements that need to be met for us to deliver and install padding, which include travel and installation fees. At this time we do not provide delivery and installation for projects under 500 SQ FT of padding.

Delivery Zones: Midwest & South USA Regions
Safety

How safe are the materials that are being used?

One of the main reasons we got into the business was to protect people making safety a top priority.

All our materials are run through rigorous testing to make sure we pass nationwide fire retardant codes. All our covers are anti-bacterial making sure you and your paterons avoid unnecessary illnesses or infections.

We also are here for you post-purchase to make sure you have virtual support in your installation so that your padding is secure to your surface. If you'd like a copy of our certificates please Contact Us.

Impact Testing

We test to ASTN standards to provide the ultimate impact protection. If you'd like a copy of our certificates please Contact Us.